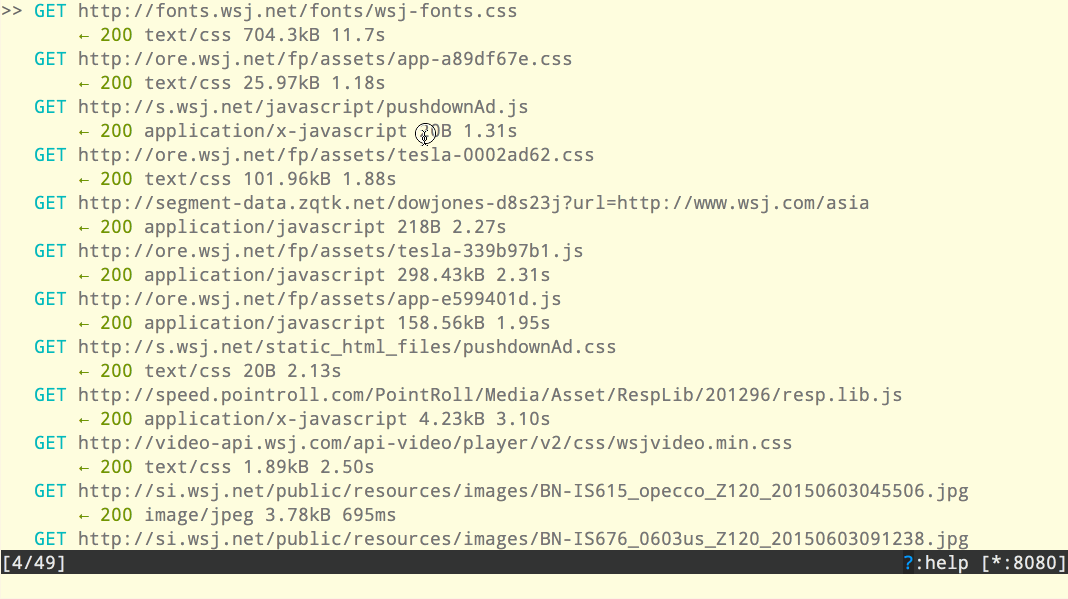 We've just released mitmproxy 0.14! Since the last release, the project has had 399 commits by 13 contributors, resulting in 79 closed issues and 37 closed PRs, all of this in just over 100 days.
Docs: Greatly updated docs now hosted on ReadTheDocs
Docs: Fixed Typos, updated URLs etc. (Nick Badger, Ben Lerner, Choongwoo Han, onlywade, Jurriaan Bremer)
mitmdump: Colorized TTY output
mitmdump: Use mitmproxy's content views for human-readable output (Chris Czub)
mitmproxy and mitmdump: Support for displaying UTF8 contents
mitmproxy: add command line switch to disable mouse interaction (Timothy Elliott)
mitmproxy: bug fixes (Choongwoo Han, sethp-jive, FreeArtMan)
mitmweb: bug fixes (Colin Bendell)
libmproxy: Add ability to fall back to TCP passthrough for non-HTTP connections.
libmproxy: Avoid double-connect in case of TLS Server Name Indication. This yields a massive speedup for TLS handshakes.
libmproxy: Prevent unneccessary upstream connections (macmantrl)
Inline Scripts: New API for HTTP Headers
Inline Scripts: Properly handle exceptions in done hook
Inline Scripts: Allow relative imports, provide __file__
Examples: Add probabilistic TLS passthrough as an inline script
netlib: Refactored HTTP protocol handling code
netlib: ALPN support
netlib: fixed a bug in the optional certificate verification.
netlib: Initial Python 3.5 support (this is the first prerequisite for 3.x support in mitmproxy)
I had very little time to spend on mitmproxy this cycle due to an extraordinarily busy patch at work - so, all of the above was shepherded into being by my hyper-efficient co-maintainer, Maximilian Hils. Having a steady pair of hands to keep things on track while I've been "absent" has been great. As a project, we'd also like to thank Google, who sponsored the work of Thomas Kriechbaumer under the Google Summer of Code program, and the Honeynet Project under whose aegis the GSoC work was done. The excellent work Thomas has done on HTTP2 support and many, many other aspects of mitmproxy has been invaluable. Look for new releases building on this soon.