About a year and a half ago, after dinner at a favourite local restaurant, and having entered into that zone of philosophical clarity that sets in around the dessert wine, my wife and I had the sudden simultaneous realisation that it was time for a change. For most of our adult lives, we had lived in the suburb of Newtown in Sydney - a hyper-urban jungle densely packed with coffee shops and theatres, inhabited by a thronging mixture of students and bohemians with counterculturally-correct hairdos. It was all beginning to seem a bit tired and same-ish. We needed more time and more space. We needed to get back to the essentials of life.
Four weeks later our furniture was in a shipping container en-route to Dunedin, a small university town near the southern tip of New Zealand. We decided to work together from home, keeping our schedules flexible to make time for walks, reading, cooking, and (more recently) spending time with our son. It was a huge risk - it was quite possible that the isolation would impose a punishing work travel regime on me, or put a crimp in my wife's very specialised career in linguistics. It took enterprise, determination and a no small amount of possibly-foolish optimism, but it's all worked out. Our leap of faith has turned out to be one of the best decisions we've ever made. Dunedin is a breathtakingly beautiful place to live - I still can't quite believe that I can get up from my desk, and within 20 minutes be on a deserted beach littered with lazy sea lions basking in the winter sun.
My advice to you is this: when your life begins to seem a bit stuffy and constricted, when you begin to feel you've lost sight of something more fundamental and get the urge to refactor - just do it. There has never been a better time in history for people who choose to march to a different drum.
To prove what a lucky fellow I am, here are two photos from my walk yesterday morning - click to view in a lightbox.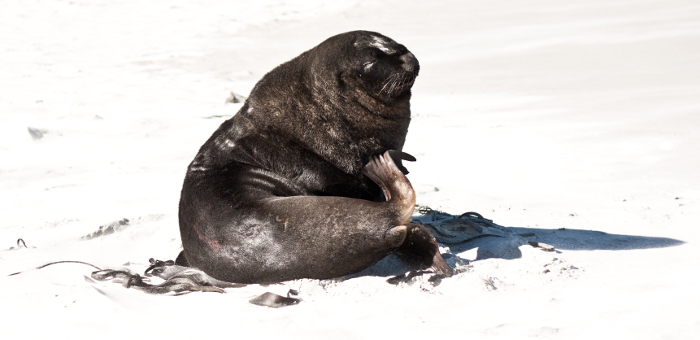 It's not clear from the picture, but this is a massive New Zealand Sea Lion bull - about 400 kilograms of apparently boneless muscle and blubber.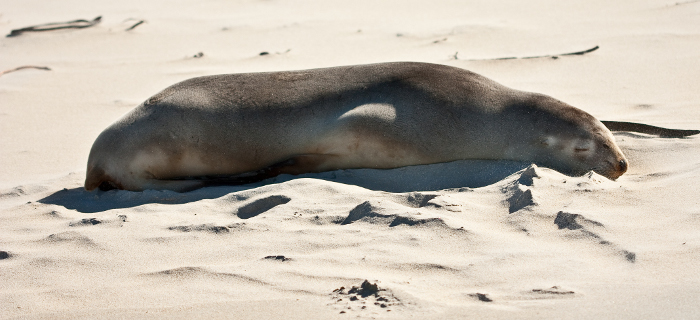 It's hard to believe that this sleek female is the same species as the dumpy, snub-nosed chap above. New Zealand Sea Lions are the rarest species of sea lion in the world - it's an immense privilege to be able to share a beach with them.